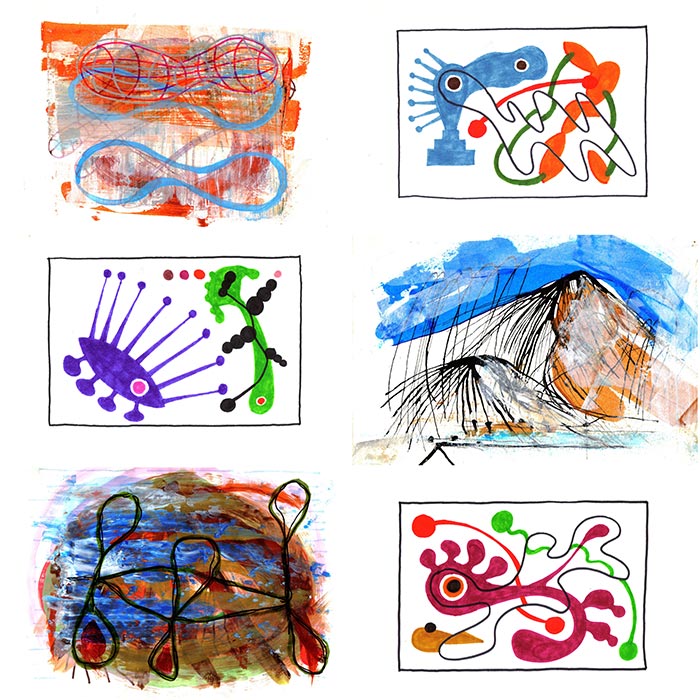 Steven Larson
Artist
Around the time that 20th-century artist Hans Hofmann declared that 'abstract art is the proclaiming of aesthetic principles,' budding young artist Steve Larson just knew that he loved to draw. Years later in graduate school and still "drawing like a demon" as one professor quipped, Steve expanded his work to include sculpture, painting, glass and other media. After earning his MFA from the University of Illinois Art + Design School, he spent many years managing design at WTTW-TV, the Chicago PBS affiliate. Larson also worked on multiple design projects with acclaimed architect Helmut Jahn, including the signage located in the United Airlines terminal at Chicago O'Hare Airport and spent several years creating art installations for residential and commercial space in Chicago and New York.
By this time, Larson was pretty grounded in his own aesthetic principles. He recognized that while large-scale paintings were satisfying to complete, they didn't quite "pump enough of the residual passion" still in his artistic wheelhouse. Returning to drawing, he created his "Sharpie Series 2014" and "Inner Monologues 2015," a large collection of pieces done exclusively on 8.5" x 11" paper. The result is an impressive album of more than 300 drawings that are vibrant, humorous, playful and fantastically quirky. They prompted his friend, musician Rick Neuhaus to remark, "Ok, so we're out here trying to find our way...and Mr. Smarty Markers rewrites the bible using only three colors on a white background."
Other new work incorporates a mix of less traditional art elements, culled from a stockpile of interior design materials such as carpet tile, rubber mulch and caulk that Larson had lying around at home. "I find that I'm drawn to other artists who, like me, don't follow trends. I love to create for the sake of establishing new artistic ground, and I'm very excited to experience the next new idea and see where it takes me," he concluded.