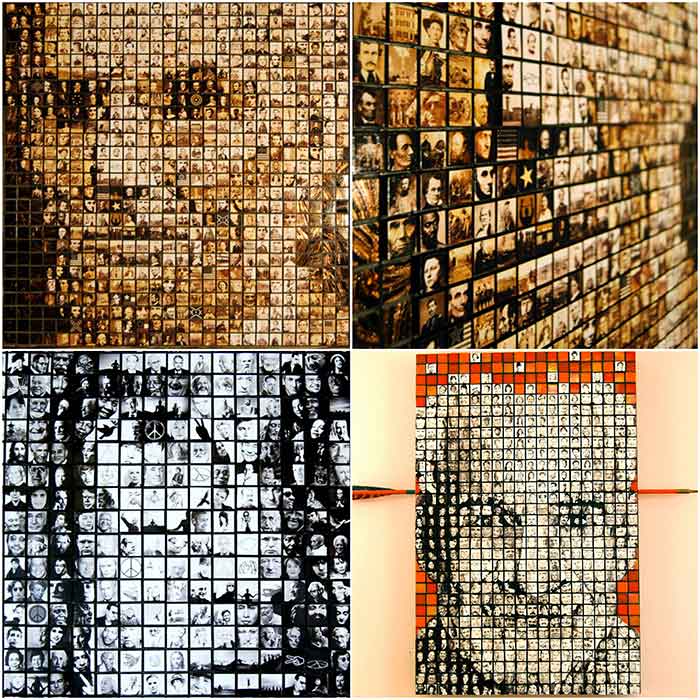 Jennifer McNulty: Artist Statement & Career Highlights
My work explores the dichotomous relationship between perception and reality in both subject matter and presentation. I refer to my recent works as 3D Photo Mosaics, which were born from my love of genealogy paired with my interest in pop culture and history. These works combine
the graphic beauty of photography with the sculptural quality of tiled mosaics. This marriage of methods give the art depth and engages the viewer by requiring them to get up close to see the small detailed photos and then step back to observe the compound image that is formed.
These works are not designed with a computer program, but rather hand-designed reliefs adhered to hundreds of various mosaic tiles. This process is very intricate and time-consuming often taking months to complete a piece, as every image is researched for accuracy to the subject matter. Each photo is then digitally manipulated by editing their layout, color and saturation so that they will work seamlessly in the layout that I have created by hand. They are then cropped and angled in such a way as to fit in the larger image, for example, part of a nostril or a bird's feather. A complex image emerges by juxtaposing hundreds of edited photos that are adhered to mosaic tiles and placed adjacent on several levels to give dimension. The viewer recognizes then individual images as reality and collectively their perception of the overall subject is born.
Artist's Highlights
• Selected for 8 solo exhibitions from 2013-2015.
• Interviewed by VOP-TV about art career and 3D Photo Mosaics; aired June 2015
• Works selected for over 21 local, regional and international exhibitions from 2013-2016.
• Work selected for 18th International Open at Woman Made Gallery, Chicago, 2015.
• 3 works selected for 2014 Rockford Midwestern Biennial.
• Work selected for 2013 Peace Project hardcover book: "Peace, Love & Understanding", published 2013.
• Editor's Choice Winner, 2013 Portrait Art Exhibit, Artist Portfolio Magazine.
• Best Of Emerging Artists 2013, Morpho Gallery, Chicago, IL. Over 100 artists were selected to exhibit during the four 2-week exhibits and only 8 artists were chosen for the final "Best Of..." exhibition during Chicago's Artist Month in October 2013.
Membership & Affiliations
• Art instructor for the Oak Park Education Foundation's Art Start program for 2014-2016.
• Current elected President of Board of Directors of Oak Park Art League, Oak Park, IL.
• Juried Artist Member of Oak Park Art League, Oak Park, IL.
• Member of the Oak Park Area Arts Council, Oak Park, IL.
Education
• Bachelor of Science in Advertising & Communications, University of Illinois, Champaign/Urbana, IL. 1991.
• Graduate Studies in Illustration, Minneapolis College of Art and Design, MN. 1992.