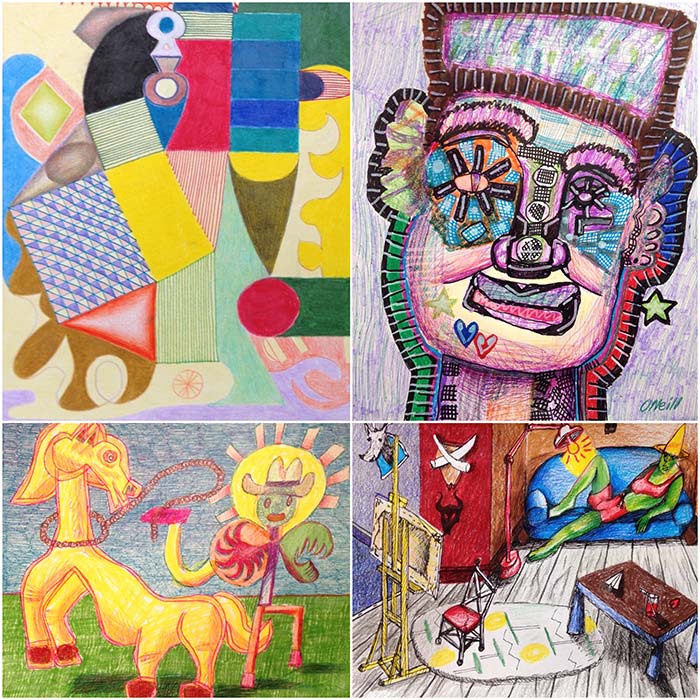 A native from Massachusetts, Jim O'Neill's art often focus around people. As a child he enjoyed coloring and then got into how to draw books. Although his teenage years weren't spent doing a lot of art he did eventually come back to it in 1997 when he enrolled in a Community College. Jim took studio art classes to further his understanding of the art process. He began to be inspired by the masters who he was learning about in art history courses. While Jim was at school he started to look at some local galleries and eventually was accepted. He enjoyed showing and sharing his paintings with the public.
Jim painted a mural, displayed art in a cafe and continued his education. By 2003 he accumulated so many paintings that he decided to set up a free shop outside his apartment for a couple weeks. Hundreds of paintings were given away.
People fascinate Jim so he chooses to convey that through art. Each piece is different just as each person is different. His work has changed over the years. Currently, he is doing drawings of scenes of different things and developing his own personal style. Line, shape, composition, subject, color,tone,and contrast all play a part in his work.
Art reveals Jim's creativity and leads to something new and refreshing. He has been doing art for quite some time and it never gets old and always gives him a sense of accomplishment. It is rewarding for him when someone may like the work or experience an emotion from it. For the past 20 years he has been creating and learning about his craft.