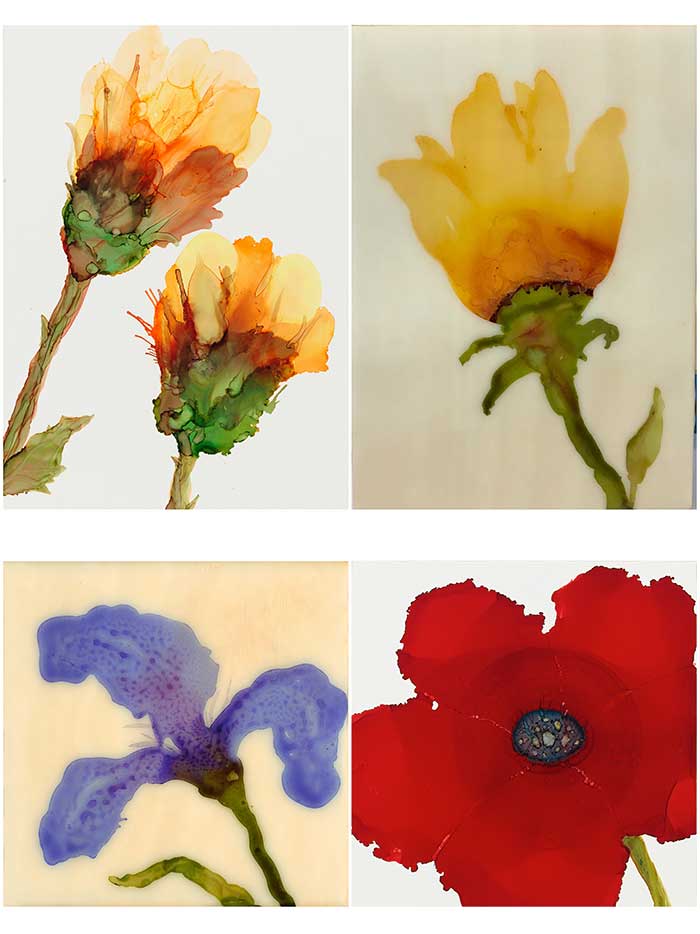 Artist Statement
I am interested in metamorphosis as a natural phenomenon as well as a personal phenomenon. My work is inspired by the natural world: plant life (pods, seeds, cocoons, flowers, leaves) and sea life (sea anemones and corals.) These ink paintings are abstract approximations of flowers rather than exact replication. I use alcohol ink, a type of pre-mixed ink with an alcohol base which is similar in look to watercolor but is more vibrant and saturated in color. Some of the paintings are on paper which reflects the bright colors even more. Some are painted on beeswax with resin (encaustic medium) on the panel, which has a softer tone. I like the look of both for different reasons!
About the Artist
Helen Dannelly is a Chicago-based artist who studied painting and printmaking at San Francisco State University and sculpture at the University of Minnesota. For the past several years, Dannelly has been working both two and three dimensionally in encaustic, which is beeswax mixed with damar resin and pigment. Her work is featured in the book, Encaustic Art in the 21st Century by Ashley Rooney and Anne Lee (Schiffer, 2016). She also paints with ink both realistically and abstractly. She has shown at Slate Contemporary in Oakland, CA, Conrad Wilde Gallery in Tucson, AZ, and Adam Peck Gallery in Provincetown, MA.
She teaches painting and sculpture workshops at her Bridgeport Art Center studio, in Beverly through the Beverly Arts Alliance, and at various venues in the Mid-West. An award-winning artist, her work is in private and public collections throughout the country.
She will be exhibiting original sculptures in a show entitled "Impact" at Christopher Art Gallery at Prairie State College in February 2019.