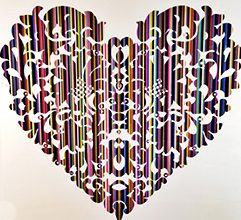 Meet Laura from HAUTE handed.
There is definitely a touch of synchronicity, luck and a spirited fashion that goes into each piece." After earning my Bachelor of Fine Arts from Michigan State University, I furthered my design education at Parson's School of Design in New York City. After many years of running an Interior Design company I noticed a void and a demand for affordable, inspiring artwork. I started to design and paint large scale paintings for my clients. I love the element of expression and vitality art brings into a space and working with my clients to personalize a piece or a design for their walls.
My paintings are influenced by all facets of design from graphic to fashion to interiors. With a passion for vintage textiles I pull inspiration from the past and recreate their essence using a contemporary color palette. I strive to depict a unique balance between scale and rhythm and vintage & modern design using a contemporary color palette.
My medium of choice is acrylics with accents of gold & silver metallic leaf.
I have had the honor of receiving 'Best New Artist', was featured on HGTV House Hunter Renovations and have won 'Best of Houzz' awards several years in a row. I am incredibly grateful to be following my passion!
Laura has recently integrated her HAUTE handed painting business with her interior decorating business Interiors with Intentions.
View more for HAUTE handed here.